Telcos are faced with multiple challenges in a saturated market, where margins are low, competition is high and churn between networks is high. Now, as 5G gains momentum, intelligent network coverage becomes more important than ever. While the latest generation networks promise unprecedented speeds, significant growth opportunities and a potential competitive differentiator, they are also expensive to deploy. Location intelligence is essential to inform effective site planning. This in turn enables telcos to build out 5G networks in the most efficient way possible to optimise the customer experience and customer value, as well as maximise Return On Investment (ROI).
Massive growth opportunity
According to a report published by Orbus Research in 2018, the 5G infrastructure market size was predicted to grow from USD 0.87 Billion in 2017 to USD 9.3 Billion by 2023, representing a compound annual growth rate of 48.2%. While the Covid-19 pandemic may have derailed many plans in 2020, the digital revolution has accelerated.
In South Africa, there are already several pilot 5G projects on the go from both established network operators and new entrants into the market. However, for telcos, it is not possible to rapidly blanket the entire country with 5G coverage because of the time and cost involved. It is therefore critical to optimise the rollout for maximum ROI.
This means strategically placing masts to attract and service high-value customers so that profits are gained and can be driven into furthering coverage in future. Location-based intelligence is the only way to do this with any degree of accuracy.
You cannot afford to guess
The new network specifications around 5G require greater network densification, flexible deployment architecture, and importantly, locational accuracy. The functionality of 5G requires signals to be delivered to extremely precise locations to ensure investment is accurately utilised.
Telcos also need to be able to target their rollout with a high degree of accuracy; the right customer might exist in unexpected places. For example, a 5G tower in Alexandra township might provide better ROI and more effectively target customers than a tower in the affluent suburb of Houghton. However, without the right data, including customer demographics and usage patterns specific to areas, it is impossible to know this. Without intelligence, the placement of towers becomes guesswork, and the reality is that with the cost involved, telcos cannot afford to guess.
Location intelligence is key
Location-based intelligence combines external and internal data to enables telcos to understand their customers, both individuals and businesses, as well as their network assets, empowering them to make fact-based decisions around network deployment. This in turn helps to optimise performance and ROI. For example, using location intelligence, network simulations can be developed using subscriber data, to help understand how usage patterns may be affected in specific areas.
Network-based intelligence can also be enriched using geolocation and other data for enhanced insight. Telcos can use location intelligence to develop profiles of populations at potential deployment locations to understand population growth, network traffic and the type of data consumed. This enables optimal build sites to be identified.
Essentially, location intelligence empowers telcos to strategically grow and best reach their total addressable market. It delivers the context needed to determine build-out revenue potential and critical business insight, to effectively drive revenue and intelligent rollout.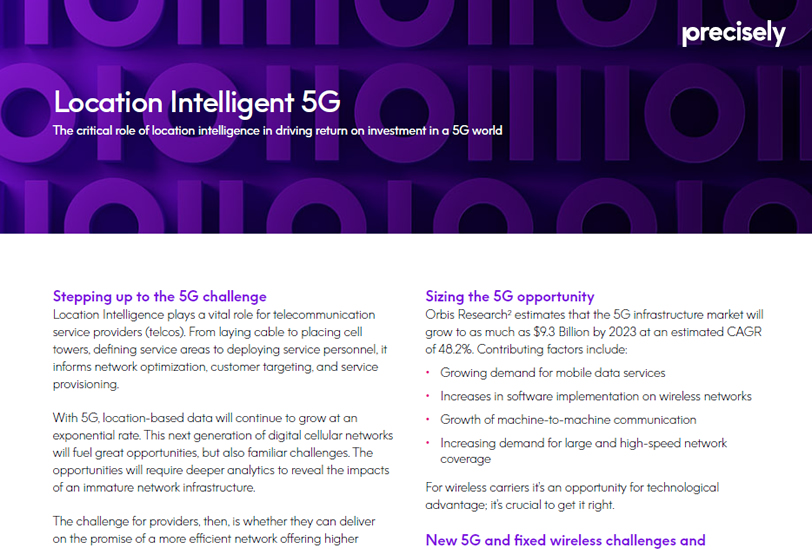 For more insight, download the Location Intelligent 5G white paper: https://www.masterdata.co.za/index.php/location-intelligent-5g